Good evening, everybody! I hope you enjoyed a terrific Hump Day. I've just gotten in from wrangling kiddos at children's choir. Whew, if only I had as much energy as they do! LOL
We're bringing you a second card today that will be a part of our *NEW* Hello Dear pack. We were so thrilled to see this week's challenge over at
Wee Memories: United We Stamp
. Our task was to create a card (or several) for
Operation Write Home
. (If you're not familiar with this terrific organization, you should hop on over & check 'em out!) Having a friend serving in Iraq right now and a cousin currently in training, this really hit near & dear to my heart!!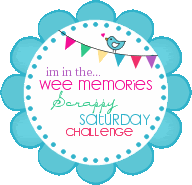 On to the deets for the card! With a theme firmly in mind - sending home a hello - we knew exactly what stamp would be perfect: the cute Pure Innocence
Happy Mail
. Now we needed to find a color scheme and a layout. For our layout, we turned to
this week's Mojo Monday Sketch
. It was simple and added enough layers to be interesting without having too many to seem crowded or busy. The color scheme proved a bit more challenging. We didn't want it to be too feminine or too masculine but somewhere right in the middle. In digging through our archives of favorite color schemes, we found a relatively
recent one from The Cat's Pajamas
that would fit the bill perfectly - a touch of pink for the ladies but plenty of masculine w/ the teal and brown for the gents. (Even though we were well outside the timeframe for entering the actual color challenge, we still felt this was the perfect choice.)
We pulled in some great accessories from the stash. How about that cute "Hi!" metal tag from Making Memories? And I love the EK Success embossed scallop punch! Is this not just cute as a button?! I can't wait to send this card off to my friend! I know he will appreciate having a cute card on hand to send home to family.
Thanks for stopping in. I hope you've enjoyed your (second) visit!